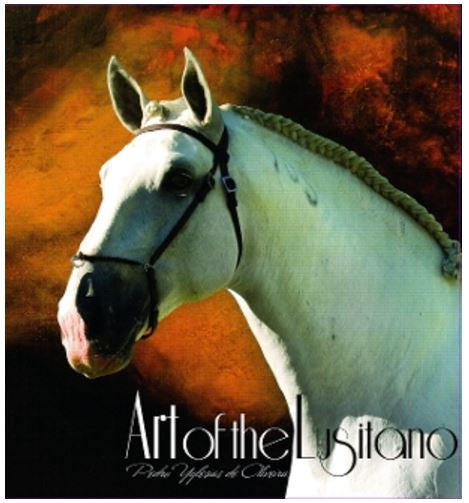 Xenophon Press
ART of the LUSITANO by Pedro Yglésias de Oliveira
Sale price
$19.95
Regular price
$39.95
NEW LOWER PRICE ! Now only $29.95
In the 18th century, the Lusitano was considered the best saddle horse in the world. This book combines illustrations from that century and contemporary art to portray the journey of this great breed through history. The original illustrations from Manoel Carlos de Andrade's 18th century monumental text, Luz da Liberal, e Nobre Arte da Cavallaria, act as backdrops for the stars of today's Portuguese School of Equestrian Art. Today's living equestrian art juxtapose with the engraving art of the 18th century show amazing likenesses. The Portuguese School of Equestrian Art does a fantastic job of keeping traditional Portuguese equitation alive and thriving. The second part of the book features today's competitive Lusitano stallions and their accomplished riders set in front of gorgeous colorful contemporary paintings. Pedro Yglésias de Oliveira is the official photographer of the Portuguese School of Equestrian Art.
This is an art book, a breed book, and true inspiration! Full color, hard cover.
Lusitano Horse Finder says:
"I very much liked the fact that this book uses old illustrations, from previous Centuries and combines it with modern contemporary art, to show the Lusitano Breed throughout History. The first section of the book is about the history of the Lusitano, it uses illustrations of the original engravings from earlier centuries and describes how equitation came to Portugal and the techniques they used, it's really interesting to read about the techniques used and the history of equitation. A brief introduction of the history of The Portuguese School of Equestrian Art was featured, which was short, but very interesting, followed by photos of the horses and riders, performing the different
movements, each photo has the name of the Rider and Horse. It was nice to see the actual riders and horses of the school in the photos and their names. 
"The last part of the book, combines the Ancient Breed with modern contemporary art, with photos of today's Riders in Portugal, each photo shows the riders' name along with the name of the horse and the breeder. The photo's show a different horse and rider with a contemporary art background as their backdrop, showing the link between Fine Art and Equestrianism. I liked that throughout the book, the horses and riders names are shown, I thought it was a nice touch and good publicity for the riders."
ISBN13:: 9780933316263
PAGES: 140
Item #: 6123
Manufacturer: Xenophon Press
---
Share this Product
---
More from this collection