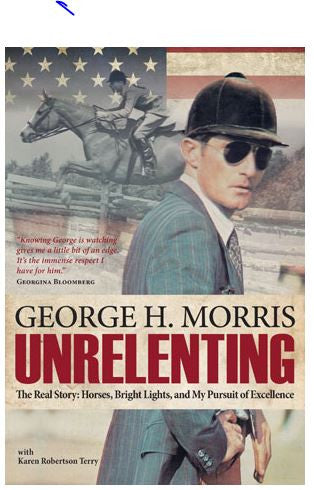 Xenophon Press
Unrelenting: My Pursuit of Excellence by George Morris
Unrelenting The Real Story: Horses, Bright Lights, and My Pursuit of Excellence
by George H. Morris with Karen Robertson Terry
If there is one name in the American equestrian story that everyone knows, it is George Morris.
A horse lover, rider, carouser, competitor, taskmaster, dreamer, teacher, and visionary, George Morris has been ever-present on the rarified stage of the international riding elite for most of the 70 years he's been in the saddle. He has represented our country as an athlete and a coach and, at one time or another, instructed many of our nation's best horsemen and women. His carefully chosen, perfectly enunciated words are notoriously powerful. They can raise you up or cut you to the quick. His approval can be a rainmaker; his derision can end a career.
But as much as people know and respect (or, perhaps, fear) the public face of George Morris, he has lived, in other ways, a remarkably private life, keeping his own personal struggles with insecurity, with ambition, and with love behind closed doors. It is only now that he has chosen, in his own words, to share the totality of his life—the very public and the incredibly private—with the world. This engrossing autobiography, the real story of the godlike George Morris, beautifully demonstrates his ultimate humanity.
Author Notes: George H. Morris is an American trainer and judge of horses and riders in the hunter/jumper disciplines, and is considered a "founding father" of Hunt Seat Equitation. Morris began riding as a child. In 1952, at the remarkably young age of 14, he won the ASPCA Maclay Horsemanship Finals and AHSA Hunt Seat Equitation Medal Final at Madison Square Garden, making him the youngest rider to do so. He went on to train numerous riders at his Hunterdon stables, who won consistently on the East Coast. Morris has represented the United States in many international competitions as both a rider and coach. In 1959 his team won the gold medal in the Pan American Games and he won a team silver medal and placed fourth individually at the 1960 Rome Olympics. Morris rode on eight winning Nations Cup teams between 1958 and 1960. Morris' students have medaled in the 1980, 1984, 1988, 1992, 1996, 2004, and 2008 Olympic Games. Morris has acted as chef d'equipe for numerous winning teams, including the 2005 champions of the Samsung Super League, the gold medal team at the 2008 Hong Kong Olympic Games, and numerous team and individual medals in the World Equestrian Games and Pan American Games. 
Watch the interview with George Morris about this book:
Author: George H. Morris with Karen Robertson Terry
Format: Hardcover
Pages: 560
Illustrations: 255 color & b/w photos
ISBN: 978-1-57076-710-4
ISBN13:: 9781570767104
PAGES: 560
---
Share this Product
---
More from this collection