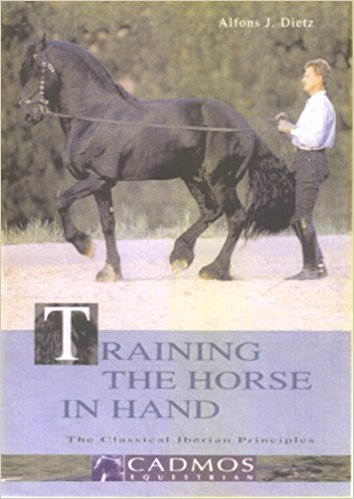 Xenophon Press
Training the Horse in Hand: The Classical Iberian Principles by Alfons J. Dietz Gently GENTLY USED copy-out of print
The origins of modern dressage lie in the Classical style of riding as practiced at the Spanish Riding School in Vienna; this book goes back to those roots, showing how horses can be trained in hand—without a rider, using the lunge or long rein. Although most equestrian hobbyists do not practice these specialist training methods themselves, the principles involved are of exceptional interest to dressage enthusiasts and traditional trainers. As a result, this textbook is more than a practical training manual; it is an attractive reading package with excellent color photographs.
In this handbook you will find fascinating information on the development of the horse, using all methods of work in hand: 
Lungeing
Long reining
Training in hand according to the Iberian school
Training in hand according to the Viennese school
Schooling between the pillars
Working with shortened long reins and free long reins 
Training The Horse in Hand presents a complete system for the development of the young horse, from its first lessons on the lunge line through the highest levels of dressage. All lessons are discussed, including lateral work, leg-yielding, shoulder-in, piaffe, passage, Spanish walk, and airs above the ground. The author places special value on the use of groundwork as an extension of training under saddle.
The art of riding lies in being able to understand the cause and effect of everything you do. If you abide by these rules when you work with your friend the horse, he will in return be a joyful companion who will be eager to do anything for you.
Nothing written in this book is "my method." There are experiences that are thousands of years old, which I have been allowed to discover in my own life and have become richer for doing so. Everything you read here is therefore "clinically tested" through the skill and knowledge of the old masters and myself, and only written in modern words. So I wish you a tremendous amount of fun as you read and apply this old wisdom. 

---
Share this Product
---
More from this collection