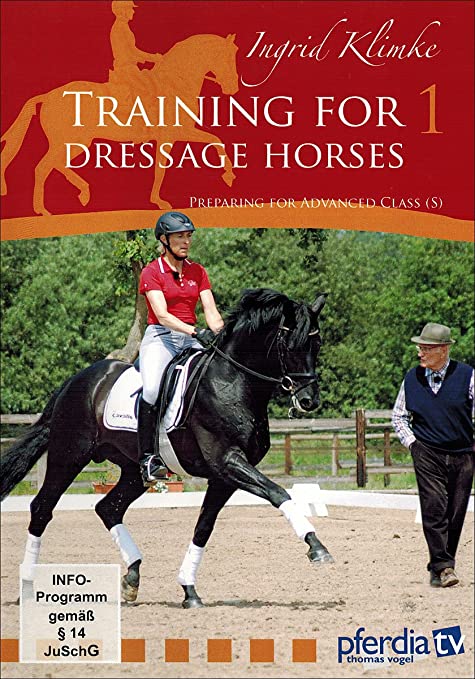 Xenophon Press
Training the Dressage Horse 1: Preparing for Advanced Class (S) Ingrid Klimke DVD - 85mins
OUT OF PRINT - LIMITED STOCK!
The foundations have been laid and it's time to further the dressage horse's training. Olympic champion Ingrid Klimke, along with her mentor Paul Stecken, perfect lateral movements, improve changes in canter, and work on series of flying changes. The work on collection is further supported by work-in-hand expert Wilfried Gehrmann. It's such a treat to get so much enjoyment out of watching riding that you will want to try it out yourself.
The name Klimke stands for highly successful horse training in a correct, sporting manner with respect for the horse. Ingrid Klimke's film series "Basic training for riding horses" is a masterpiece conveying brilliant ideas to follow in one's own riding. In this sequel, her horses have matured another year and are ready in their dressage work to progress towards Advanced Class (S).
Ingrid Klimke is an Olympic and world champion who follows in the tracks of her famous father, the dressage legend, Dr. Reiner Klimke. She is the only professional rider in the world who rides successfully at the international level in both dressage and eventing. She trains by her father's famous motto: "Riding should improve the beauty and strength of the horse." With this in mind, Klimke trains her horses to be as versatile as possible. She believes that forcing young horses to specialize too soon can prevent them from developing to the best of their ability. Using a multi-disciplinary (cross-training) approach, she enhances their skills and compensates for their weaknesses. Under Ingrid Klimke's tutelage, your young horse will learn with enjoyment and enthusiasm. The training of horses should be fun, allowing both horse and rider to shine.

Author: Ingrid Klimke
Format: DVD
Pages: 85 minutes
DVD: NTSC & PAL
Minutes: 85
---
Share this Product
---
More from this collection