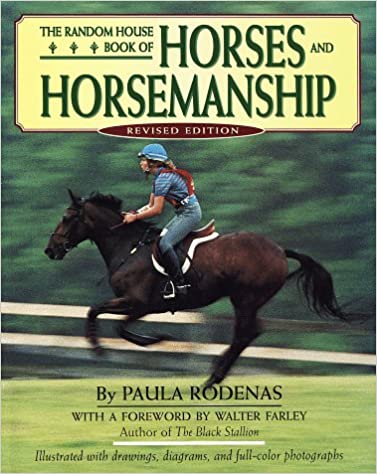 Xenophon Press
The Random House Book of Horses and Horsemanship: (Revised edition) by Paula Rodenas - gently used hardcover
Revised and updated, The Random House Book of Horses and Horesmanship is now available in both hardcover and trad paperback. Illustrated with more than 100 breathtaking color photos and dozens od diagrams and drawings, this new edition is a comprehensive reference packed with information about the equestrian world. "There are pictures enough to make the uninitiated happy just gazing, descriptions of horse care and training...An equiphile's delight."--The Bulletin of the Center for Children's Books.  
Grade 5 Up-- Dozens of appealing full-color photographs invite readers to browse through this oversized volume. Rodenas covers the natural history, breeds, care, riding, equestrian sports, and humane treatment of horses in her text and accompanying photo captions, drawings, and diagrams. First-person narratives by expert horsepeople enliven the facts. The wide range of topics leads to uneven coverage and lack of focus; the information wavers across several audiences, simplistic in some segments, sophisticated in others. Detailed description of modern horse breeding is included, yet activities of interest to young riders, such as training and riding horses, is briefly summarized. Saddlery discussions range from basics to more complex explanations using terms that will be unfamiliar to novices. Most are defined in context, although some are mentioned first and explained later. The horse-wise will catch at least five factual errors, and Western riders will be dissatisfied with the token coverage of their sport. An appended list of associations omits the American Paint Horse Association, representing one of the top three Western breeds. This title is superior to Harold Roth's Big Book of Horses (Putnam, 1987), and supplements information in Marguerite Henry's All about Horses (Random, 1962). --Charlene Strickland, formerly at Albuquerque Public Library , NM
Copyright 1991 Reed Business Information, Inc.
---
Share this Product
---
More from this collection