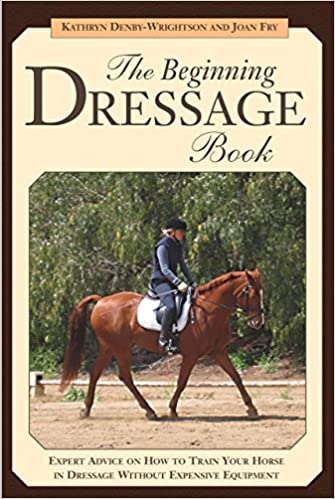 Xenophon Press
The Beginning Dressage Book: Expert Advice on How to Train Your Horse in Dressage without Expensive Equipment
A handbook on training your horse in dressage on your own and in your own backyard facility.
From the Back Cover
The Beginning Dressage Book grew out of the real-life experience of Kathryn Denby-Wrightson, a professional trainer, teacher and judge, and Joan Fry, a backyard horse owner who sought to make riding a more rewarding experience for herself and her mount. That's what dressage is all about. It's a method of training that develops the horse's natural abilities - the way it moves and balances itself - so that it will seat his rider comfortably at any gait and is easily controlled under any circumstances.
With the help of this practical, down-to-earth handbook you will be able to develop your own riding skills and reeducate your horse into a smooth, relaxed, responsive horse who is a joy to ride. And you can do it easily and inexpensively in your own backyard.

About the Author
Kathryn Denby-Wrightson has been participating in dressage competition since she was 12 years old. She received her British Horse Society Instructor certificate from Colonel Ian Dudgeio of the Irish Olympic Team, and she has studied under a number of international masters.

Joan Fry is a horse owner who has written numerous articles on horses and riders.
---
Share this Product
---
More from this collection