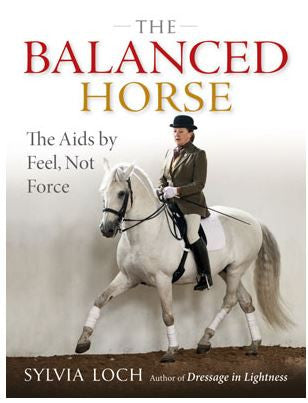 Xenophon Press
The Balanced Horse: The Aids by Feel, Not Force by Sylvia Loch
This book is about developing that ëperfect understanding' which is so important in our riding relationships. Whether you practice dressage, hack, event, show, enjoy long distance riding, natural horsemanship or Western, the improvement of your horse through an understanding of ëhis' language, should allow him greater ability, confidence and enjoyment in all your work together.
The Language of the Aids is not as well understood today as it should be and it seems that it is frequently forgotten or fragmented, and it will be the horse that suffers most when this happens. Incorrect aiding can have a very adverse effect.
The aim of The Balanced Horse is to confirm in people's minds what they should be doing for each and every request, and what they must avoid. Every instruction is based on what the horse needs to feel - at that moment in time. Each aid is based on the psychological and physiological effect placed on that sensitive animal underneath us. Over time, applying each aid correctly can elicit a response as instant and involuntary as the knee jerk reaction in our own.
Sylvia Loch discovered classical High School riding and the Lusitano Horse in Portugal where she lived for ten years. With her late husband, Henry, Major the Lord Loch, she ran a dressage academy both in Portugal and in the UK and is still teaching today. In 1984 she founded the Lusitano Breed Society of Great Britain. She has lectured and demonstrated her art around the world. Recently she was awarded an Honorary Instructorship by the Portuguese School of Equestrian Art — the only British person to receive such an accolade.
Sylvia is the author of several successful books including Dressage — The Art of Classical Riding(Sportsman's Press an imprint of Quiller Publishing) now available in French and German.
Today Sylvia is considered a world authority on classical riding and her link with the Spanish Riding School of Vienna stems from a friendship with former director Brigadier Kurt Albrecht as well as the late Eva Podhajsky. Sylvia has trained with Former First Chief Rider of the School, Arthur Kottas but her original inspiration was her late husband Henry, an ex cavalry instructor who introduced her to the world of Iberian riders — including the late great Nuno Oliveira, Alvaro Domecq, Guillherme Borba and the legendary David Riberio Telles who rode his horses with hands of silk.
She founded The Classical Riding Club in 1995.
ISBN13:: 9781570766220
PAGES: 224
---
Share this Product
---
More from this collection