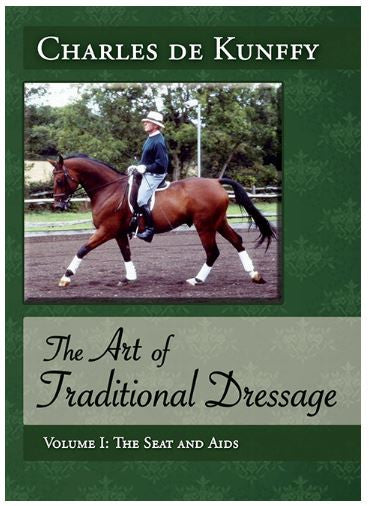 Xenophon Press
The Art of Traditional Dressage: The Seat and Aids by de Kunffy DVD
Sale price
$49.95
Regular price
$59.95
Now published by Xenophon Press.
Volume I Seat and Aids: An educational DVD that is expertly articulated by Charles de Kunffy, world-renowned clinician, 14 years as an FEI Judge, and author of five books on Classical Dressage.
The centerpiece of this DVD is a unique and thorough description of how to obtain the correct rider's position on horseback and how to maintain it in motion by  integrating the the rider's structure with the horse's motion.
Invaluable information that is simply not taught anymore.
This is becoming a lost art, but it is explained here and demonstrated by the author.
This video provides the means to achieving excellence in Classical Dressage:
Experience the passion of correct equitation
Discover how to obtain the perfect seat and why you must have it
Explore Classical Dressage and perceive its benefits
Acquire the precise leg position and the proper use of the leg
Learn principals that are effective on any horse
Learn how to create beautiful form through proper posture, position and aids
Understand the use of hands and reins in their proper function
Discover lunging exercises to achieve eloquence
Acquire the means to achieving harmony between horse and rider
This easy to follow, succinctly communicated video comprehensively presents the classical equitation system.
ISBN13:: 9780933316799
Minutes: 70
Item #: 5222
Manufacturer: Xenophon Press
---
Share this Product
---
More from this collection