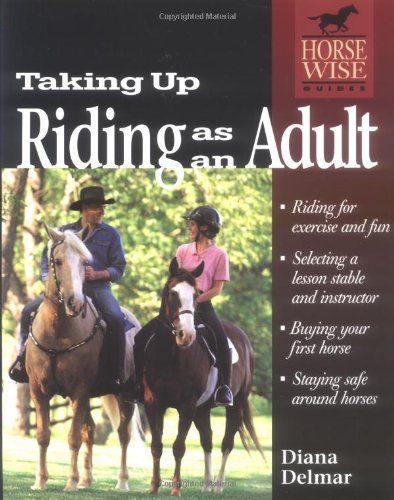 Xenophon Press
Taking Up Riding as an Adult - gently used Paperback – 1998 by Diana Delmar
For adults who dream of horseback riding but believe this is a skill that must be mastered during childhood, this book offers step-by-step advice for achieving that dream. Topics include finding an instructor, assessing horse health, purchasing horse tack and supplies, buying your own horse, and much more.
From the Back Cover
Don't wait another minnute -- learn to ride now with this beginner's guide written just for adults.
Make smart choices, save time and money, and fulfill your dream of learning to ride with this practical guide for the beginning adult rider. You'll find everything you need to know to fully enjoy the riding experience including how to:
* Locate a high-quality lesson barn and instructor
* Ride safely and prevent injury
* Make informed decisions about purchasing tack and equipment
* Understand proper horse handling and health care
* Organize events and build a riding community
About the Author

Diana Delamar is a freelance writer and editor specializing in veterinary topics and human health-care trends. She is the author of The Guilt-Free Dog Owner's Guide and Taking Up Riding as an Adult, both from Storey Books.
---
Share this Product
---
More from this collection