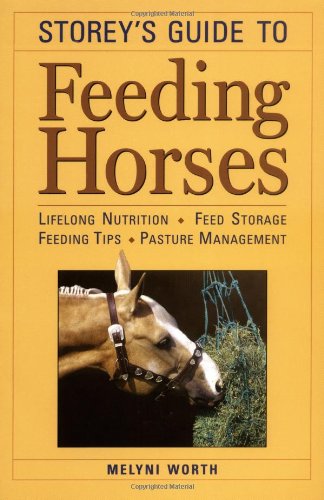 Xenophon Press
Storey's Guide to Feeding Horses: Lifelong Nutrition, Feed Storage, Feeding Tips, Pasture Management - gently used Paperback – 2004 by Melyni Worth Ph.D.
The one issue on which all horse owners agree is that proper diet and nutrition are the most essential aspects of horse care. In Storey's Guide to Feeding Horses, equine nutritionist Melyni Worth addresses the many ways in which diet impacts a horse's health, temperament, and performance.
Worth covers the basics, discussing the details of the nutrients every horse needs, and how to calculate rations based on the horse's body weight. She also explains the benefits of grains and grasses, as well as the relative value of additives and herbal supplements. And, she teaches owners how to design a balanced feeding program for their horses.
Perhaps most important is the chapter on "Feeding for a Lifetime." Here, Worth outlines the proper diet a horse needs at every age and at every level of activity. She describes the healthiest formula for foals and the most nutritional diet for brood mares and performance horses. Nutrition for elderly horses receives special attention here, with valuable information on soft feed for aged horses that have trouble chewing. Worth also identifies the treats that are best for horses, and how to overcome a horse's food-related vices. Finally, Worth offers guidance on pasture maintenance and how to store feed safely.
This book also includes advice on seasonal feeding routines. For example, since fiber is essential for warmth, owners should make certain their horses receive plenty of hay in the winter. During the summer, horses should have free access to fresh water and loose salt. Worth concludes with a detailed discussion of nutritional disorders and their remedies.
Comprehensive and authoritative, yet easy to understand and packed with advice that is easy to put into action, Storey's Guide to Feeding Horses is an essential reference horse owners will turn to time and again.
---
Share this Product
---
More from this collection