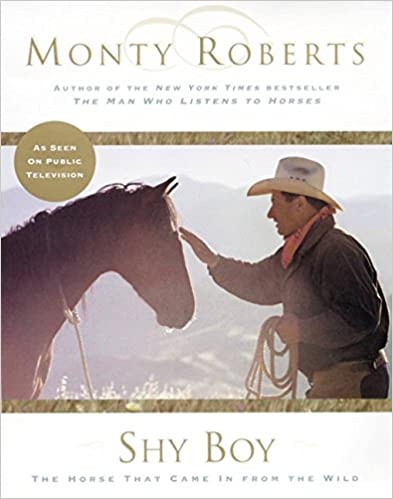 Xenophon Press
Shy Boy: The Horse that Came in from the Wild Hardcover by Monty Roberts- gently used hardcover
World-famous horse gentler Monty Roberts reveals the unique rapport he shares with one special horse: a wild mustang
In this beautifully illustrated book, Monty Roberts's be loved horse Shy Boy takes center stage. In a gripping, intimate narrative and in one hundred color photos, Monty Roberts relives their unique relationship, beginning with his first encounter with the wild horse in the high desert. During a dramatic three day ride across a hundred miles, Monty Roberts used all his skill to connect with the little mustang he finally befriended.
Throughout the year that followed, Shy Boy grew to love life on the farm, playfully demanding attention and becoming fascinated by children. During a year of challenges and one frightening illness, the wild horse earned the respect and admiration of his trainers--he had exceptional spirit. And, as his fame grew following the PBS-aired documentary that featured his initial three-day encounter with Monty Roberts, Shy Boy began to receive visitors from all over the world.
Yet throughout Shy Boy's year of fame, Monty Roberts was asked, "Would Shy Boy rather be free!" With trepidation, he took Shy Boy back to the wild to let him choose: Go with your herd, or stay with your gentler. What happened is so exciting and moving that it will surprise every reader.
And like Monty Roberts, readers will fall in love with Shy Boy.
---
Share this Product
---
More from this collection