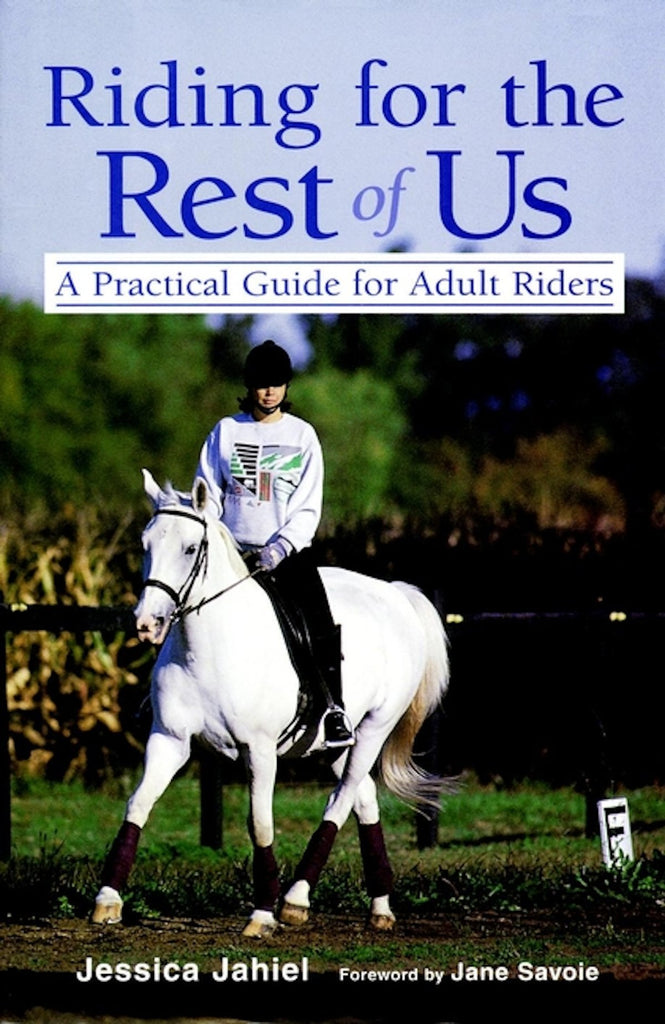 Xenophon Press
Riding for the Rest of Us: A Practical Guide for Adult Riders - gently used Hardcover – 1996 by Jessica Jahiel
A Practical Guide for Adult Riders
The Howell Equestrian Library is a distinguished collection of books on all aspects of horsemanship and horsemastership. The nearly fifty books in print offer readers in all disciplines and at all levels of competition sound instruction and guidance by some of the most celebrated riders, trainers, judges, and veterinarians in the horse world today. Whether your interest is dressage, show jumping, or Western riding, or whether it is breeding, grooming, or health care, Howell has a book to answer your needs. Get to know all the books in the Howell Equestrian Library; many are modern-day classics and have achieved the status of authoritative references in the estimation of those who ride, train, and care for horses.
The Howell Equestrian Library
Review
Adult horse riders receive a practical guide to expanding upon existing skills and abilities, and will enjoy a book which covers such a broad spectrum of subjects as setting goals, maintaining riding fitness, riding and training alone and with others, and caring for the horse. Essential for any casual adult rider. -- 
Midwest Book Review
From the Inside Flap
Riding for the Rest of Us A Practical Guide for Adult Riders In Riding for the Rest of Us, Jessica Jahiel has produced a thoughtful, instructive, reader-friendly book aimed at the adult working rider. She views maturity as an asset and encourages adult riders to analyze the skills and abilities they already possess and apply them to riding and horse ownership. If you are an adult rider, this book will help you:
Examine your reasons for riding

Set realistic goals

Achieve and maintain riding fitness

Choose the right instructor, stable, and horse

Get the most out of each riding lesson

Find and care for your equipment

Ride and train alone, safely and effectively

Know when—and whom—to ask for help

Become more actively involved in your horse's health

Communicate effectively with your veterinarian

Prepare for, enjoy, and benefit from shows and clinics

Improve your riding by understanding your horse's nature

Explore the meaning of horsemanshipRiding for the Rest of Us is written with humor, empathy, respect, and great affection for horses and humans. This book offers advice and encouragement for every adult who wants to ride, or ride better, regardless of limited time, fitness, or finances. Whether you are an aspiring rider or an accomplished one, whether your interest is in trailriding or dressage competition, you will find Riding for the Rest of Us to be an ideal introduction to the responsiblities and joys of being an adult rider.
From the Back Cover
A Practical Guide for Adult Riders
The Howell Equestrian Library is a distinguished collection of books on all aspects of horsemanship and horsemastership. The nearly fifty books in print offer readers in all disciplines and at all levels of competition sound instruction and guidance by some of the most celebrated riders, trainers, judges, and veterinarians in the horse world today. Whether your interest is dressage, show jumping, or Western riding, or whether it is breeding, grooming, or health care, Howell has a book to answer your needs. Get to know all the books in the Howell Equestrian Library; many are modern-day classics and have achieved the status of authoritative references in the estimation of those who ride, train, and care for horses.

The Howell Equestrian Library
About the Author
Jessica Jahiel is an Illinois-based instructor, trainer, and clinician. She trains horses, retrains problem horses, and gives lessons and clinics across the United States and in England. Her teaching goal is to develop balanced, willing, forward horses and thoughtful, tactful riders. She is actively involved with the United States Pony Clubs (USPC). Her stories, articles, and reviews have appeared in HorsePlay, The Chronicle of the Horse, Western Horseman, and the USPC News. Her second book, on training, is in preparation.
---
Share this Product
---
More from this collection