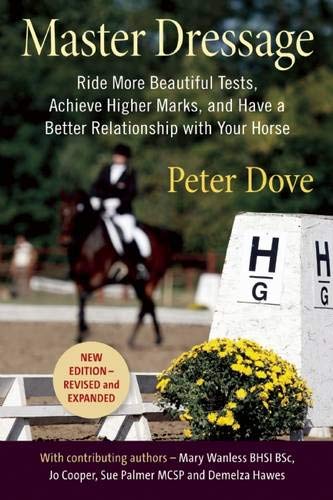 Xenophon Press
Master Dressage: Ride More Beautiful Tests, Achieve Higher Marks, and Have a Better Relationship with Your Horse - gently used Paperback – 2016 by Peter Dove
Approaching dressage from a newcomer's perspective can be a little daunting. There seems to be so much to learn, so much to understand and some confusion surrounding what judges are looking for in tests. Even experienced riders find it difficult to break out of the 65–70% range in their test marks.
Using the steps of Accuracy, Fluidity, Understanding, Practice and Review this book gives readers a clear framework on which they can build confidence in their approach to dressage training and test riding. These steps reveal where readers could be losing valuable marks and arms them with the understanding needed to achieve much higher scores.
Published privately, the first edition of this book was a great success, garnering over five-star reviews and being placed in the top best-selling books on Amazon. Its popularity owed much to the "easy to understand language", the clear diagrams and photographs and the overall philosophy of communication, empathy and skill development. These aspects are all retained in this revised edition, which has been expanded to include chapters on groundwork, and rider fitness.
After reading this book you will be able to have a better relationship with your horse, ride more beautiful tests and get higher marks.
---
Share this Product
---
More from this collection