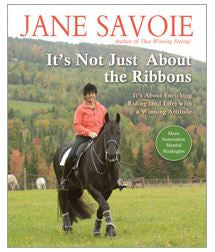 Xenophon Press
It's Not Just About the Ribbons (Paperback) It's About Enriching Riding (and Life) with a Winning Attitude by Jane Savoie
Over 15 years ago, Jane Savoie wrote the first book to recognize the importance of training the mind and shaping attitude in order to achieve higher levels of riding skill than ever imagined. Riders who benefited from the lessons in That Winning Feeling! clamored for more, and Savoie responded with her fabulous follow-up book, It's Not Just About the Ribbons, which is in its fifth year of publication and now available in paperback.
Once again, Savoie shares the tools and ideas for self-improvement that she has used, not only to help herself deal with challenges, but her students—who range from Olympic contenders to intermediate riders—as well. Full of shining examples of the success of Savoie's methods of dealing with riding's—and life's—challenges, this book is essential for anyone who is passionate about horses but may be struggling, at some level or other, with negative emotions and frustration from slow development of riding skills. All readers will find that, with Savoie's contagious enthusiasm along for the ride, they too can make changes more easily and playfully while better enjoying every moment with their horses.
"Self-motivating techniques that span all riding disciplines–You'll find yourself reaching for this book again and again."—Horse & Rider
 "Jane Savoie has produced another winning book–sure to inspire riders while helping them achieve their dreams."—The Horsemen's Yankee Pedlar 
Author: Jane Savoie
Format: Paperback
Pages: 256
Illustrations: 63 color photos, 75 color drawings
ISBN: 9781570764011
About the author
JANE SAVOIE is one of the most recognized names in dressage, and for a good reason. She has been a member of the United States Equestrian Team and has competed for the US in Canada, Holland, Belgium, France, and Germany. Jane is also well-known as a coach, writer, and speaker. She and her husband, Rhett, split their time between Vermont and Florida.
---
Share this Product
---
More from this collection