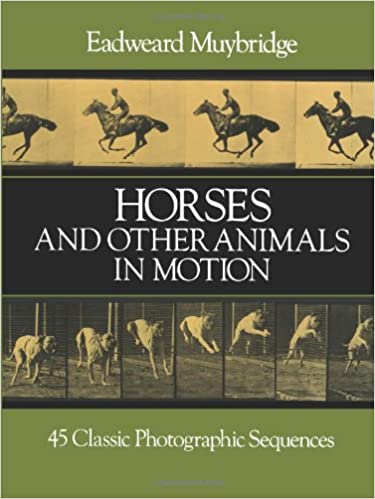 Xenophon Press
Horses and Other Animals in Motion: 45 Classic Photographic Sequences by Eadweard Muybridge
In 1887 the University of Pennsylvania first published Animal Locomotion by pioneering photographer Eadweard Muybridge, an extraordinary compilation of high-speed sequential photographs that has never been superseded as the most detailed, complete, and useful visual analysis of living movement ever captured on film. Dover has selected the best of Muybridge's animal photographs for this inexpensive paperbound edition. It brings an unsurpassed pictorial reference within reach of artists, photographers, animators, zoologists, and anyone interested in the precise dynamics of how an animal moves.
Taken at speeds up to 1/2,000 of a second, true action images show horses and other animals photographed in typical actions against ruled backgrounds. Most sequences include shots from two angles, many in foreshortened views. Horses are shown walking, trotting, cantering, galloping, pulling a weight, drawing a vehicle, and with riders bareback and in the saddle.
Dozens of other stopped-action photographs capture split-second motions of the ox, sow, goat, dog, cat, antelope, lion, camel, elk, baboon, elephant, ostrich, pigeon, cockatoo, and other animals. You'll see precisely how a cat runs; how an elk trots; the way a lion sets its paw down, how an ostrich's head bobs; exactly how a dog jumps a hurdle; and many other vignettes of animals on the move.
Most important, Muybridge's photographs capture many movements too fast for the human eye to catch. Here are the rapid, often minute adjustments of bone and muscle involved in leg coordination, head movements, shifts of gravity centers, and other aspects of living motion.
Now you can study these and other details in 45 classic sequences from Muybridge's landmark of early photography, reproduced directly from a rare original edition of Animal Locomotion. Best of all, this inexpensive Dover edition, unprecedented in publishing, makes a rich selection of the photographs widely available at a reasonable price.
sku 10119
---
Share this Product
---
More from this collection