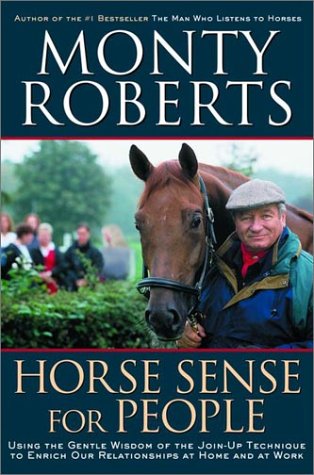 Xenophon Press
Horse Sense for People: Using the Gentle Wisdom of the Join-Up Technique to Enrich our Lives at Home and at Work - gently used Hardcover – 2001 by Monty Roberts
Monty Roberts has changed forever the way we treat horses; this book may change the way we treat each other.


In 
The Man Who Listens to Horses
, Monty Roberts revealed the depth of communication possible between human and horse. Touching the hearts of over 4 million readers worldwide, Monty Roberts' memoir—which spent over a year at the top of the 
Globe and Mail
 and 
New York Times
 bestseller lists—described his discovery of the 'language' of horses, and the dramatic effectiveness of removing violence from their training. Now, in his long-awaited sequel, the world's most famous horse gentler demonstrates how with people, as with horses, the gentle way is the better way.


Horse Sense for People
 is full of memorable horse stories, as well as moving stories from Roberts' encounters with the thousands of people, including business leaders, who attend his demonstrations in sold-out arenas all over the world. He shows how the lessons he has learned from horses can provide effective, thought-provoking guidelines for improving the quality of our communication with one another; for learning to 'read' each other effectively; and for creating positive, fear-free learning environments. He provides clear examples of how we can achieve positive work relationships to ensure the highest level of performance; encourage our children to learn; avoid family violence, or best strengthen relationships at home.


Horse Sense for People
 has at its core an inspiring belief in the power of gentleness, positive actions, and trust as the basis of success. Monty Roberts brings new meaning to the importance of communication in our lives.


Horse Sense for People — At Home and At Work


• Uses stories from the field to illustrate how communication (both physical and verbal) has the potential to forge lasting partnerships with business associates

• Teaches us valuable lessons about how best to create warm, trusting, communicative relationships with our children

• Shows how fostering respect at work and in the business can invigorate colleagues and ignite creativity

• Recognizes the essential importance and power of trust and loyalty

• Reasserts that there is never a place for violence in the home

• Offers guidance on how to reinforce positive learning habits in your children
---
Share this Product
---
More from this collection