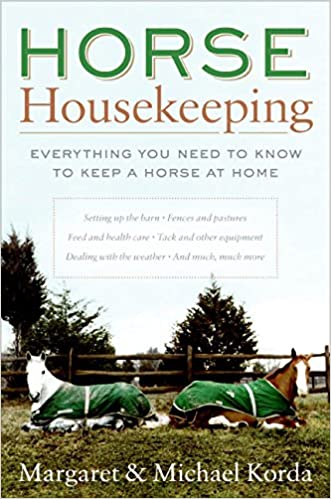 Xenophon Press
Horse Housekeeping: Everything You Need to Know to Keep a Horse at Home by Margaret & Michael Korda - gently used
In Horse Housekeeping, Margaret and Michael Korda (she is a successful novice- and training-level eventer and he is the author of Horse People) provide everything you need to know to set up a barn of your own and care for your horse (or horses) at home.
Authoritative, inspirational, highly accessible, full of common sense and down-to-earth advice, all of it based on twenty-five years of experience, the Kordas' book is a basic resource for anybody who wants to keep horses in a safe, content, healthy, and cost-effective way at home, from detailed lists of things you need to have on hand to the basic (and not so basic) dos and don'ts of horse care. Divided into such useful chapters as "Fencing and Paddocks," "The Barn Routine," "The Care of the Horse," "People," "Feeding and Caring for the Horse," "Tack," "Horse Clothing," "Equipment," and "Care for the Aging Horse," it is helpfully illustrated and written in a voice that is at once informative, supportive, and full of funny (and not so funny) stories about horse housekeeping. The Kordas offer a unique and reliable guide to horse care that not only will be invaluable to beginner and experienced horse owners alike, but also is astonishingly readable.
They take you through the steps of deciding if having a horse barn is practical for you, including helpful suggestions on space-saving barn designs, creating pastures, building fences, sample exercise routines, the right feed, the basics of horse health care, and the equipment needed for both horse care and property maintenance. This detailed, user-friendly compendium of down-home wisdom, entertaining stories, and straightforward horse sense will help you to set up a barn the right way, so you will have time to actually ride your horse.
About the Author
Margaret Korda was born in England and now lives with her husband in Dutchess County, New York. They are also coauthors of 
Horse Housekeeping: How to Keep a Horse at Home
.


Michael Korda is the author of Ulysses S. Grant, Ike, Hero, and Charmed Lives. Educated at Le Rosey in Switzerland and at Magdalen College, Oxford, he served in the Royal Air Force. He took part in the Hungarian Revolution of 1956 and on its fiftieth anniversary was awarded the Order of Merit of the People's Republic of Hungary. He and his wife, Margaret, make their home in Dutchess County, New York.
---
Share this Product
---
More from this collection