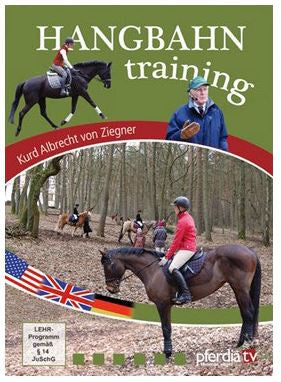 Xenophon Press
Hangbahn (sloped arena) Training DVD by Kurd Albrecht von Ziegner
Sale price
$44.95
Regular price
$49.95
Hangbahn is a German term that means "sloped arena". Hangbahn Training is a gentle but very effective supplement to normal training or reschooling of ridden horses of all age groups. Systematic movement on sloping ground removes tension and improves suppleness and balance naturally. It also develops correct musculature and overall condition, as well as offering opportunities to introduce horses to the sights, sounds, and distractions beyond the arena.
This DVD offers an ideal training system outside of the arena, on landscape that challenges both horse and rider and helps them to excel in any riding discipline. Kurd Albrecht von Ziegner explains how to correctly ride on uneven terrain while maintaining proper balance, carriage, and seat. The DVD is supplemented with von Ziegners own comments.
"True harmony between rider and horse that determines the ëexpression' and hence the ëimpression' of a performance can therefore only exist when the rider can harmonize his aids so finely with the horse's movements that they have a truly aiding, not interfering effect."
— Kurd Albrecht von Ziegner
Kurd Albrecht v. Ziegner has operated an internationally renowned riding school in Mechtersen, Germany, since 1971. Trained as an officer in the cavalry school in Hannover, he became a leading NATO officer in the 1950s and took over, among other things, the construction of the Turkish cavalry school in Ankara. He is also one of the most prominent and successful dressage trainers in the United States, where he developed a new judging system, the Prix St. James. Winner of the German Rider Cross in Gold, the author shares insights from more than fifty years of training. He is also the author of many articles and books, including Elements of Dressage.

---
Share this Product
---
More from this collection