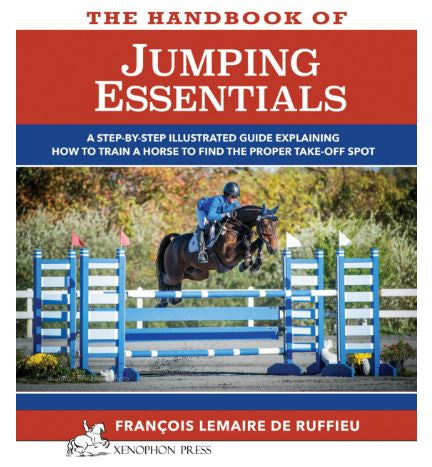 Xenophon Press
Handbook of JUMPING ESSENTIALS by Francois Lemaire de Ruffieu
Sale price
$25.95
Regular price
$29.95
The Handbook of Jumping Essentials simplifies the basic elements of jumping needed by every rider.

The first chapter explains the importance of understanding the take-off spot in determining the horse's placement before jumping obstacles.  Next, Francois Lemaire de Ruffieu presents a simple, yet powerful method for riders to educate their eyes to see the distance to bring their horses to the proper jumping spot. There is great advice for training the quiet landing:
"While teaching the horse to jump....always remember to halt after the jump and allow him to stand quietly, to teach the horse to rebalance himself. "
A thorough explanation of the purpose of the rider's position is explained along with helpful exercises for attaining and improving the ideal jumping seat. Finally, the author shows how one can train horses to approach obstacles properly and effectively with ease.
Francois Lemaire de Ruffieu grew up in France. He was first trained by Master Jean Couillaud and graduated in 1967 from the Cadre Noir, one of the oldest and most prestigious riding academies in Europe. During his 6 years in the cavalry at Saumur and Fontainebleau, he studied and showed extensively in dressage, stadium jumping, three-day eventing, and steeplechase. He taught riding in Paris at the Military School of War. Since 1978, he has given clinics throughout the United States of America and Europe. His students have won year-end high-score awards in equitation, hunter classes, stadium jumping, dressage, and combined training. In 1987 he was appointed Executive President of France for the Arabian Sport Horse Association. Since 1988, he has been a panel member of the American Riding Instructor Certification Program and in 1996 he was awarded the title of Master Instructor. He currently lives in Florida.
Item #: 4009
Manufacturer: Xenophon Press
---
Share this Product
---
More from this collection