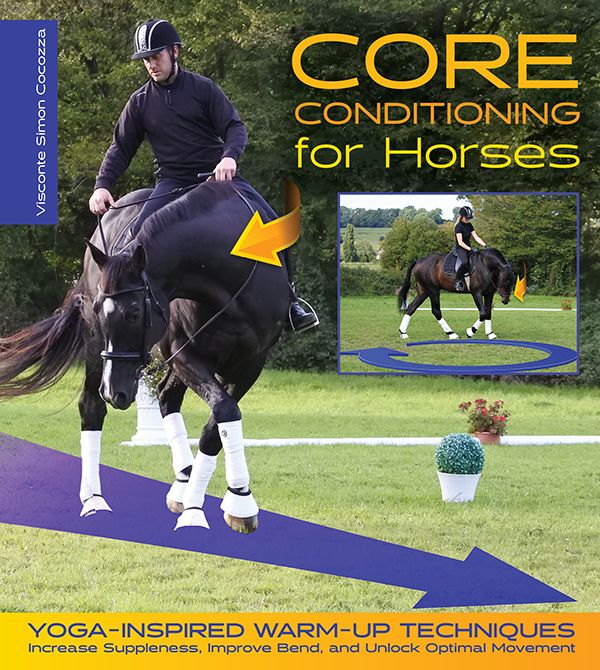 Xenophon Press
Core Conditioning for Horses Yoga-Inspired Warm-Up Techniques: Increase Suppleness, Improve Bend, and Unlock Optimal Movement by Visconte Simon Cocozza
Every equestrian wants to know: what is the difference between the horse that "dances" when you are on him, and the one that doesn't? According to Visconte Simon Cocozza, Trainer and Examiner for the La Fédération Française d'Equitation (FFE), it all comes down to the horse's posture. The horse's ability to use the powerful mechanisms already built into his body relies not upon the strength we can see on the outside but the strength on the inside. This invisible and complex arrangement of internal "core" muscles control the horse's posture, suppleness, and agility. Their good condition is the key to the dance.
Equine core muscles are very difficult to isolate with the traditional training techniques common to horse sports. However, by examining what we do with the human body when faced with a weak core, we can find new methods for conditioning these areas of the equine body. Visconte Cocozza has taken principles of the human practice of yoga and used them to develop novel ways of reaching deep within the horse's body and gently "unlock" areas that may be a little "rusty," improve core fitness, and even relieve pain related to conditions such as kissing spine. In this book, he provides step-by-step instruction explaining easy mounted exercises that enhance the horse's posture, and boost his confidence in his body and movement, making him easier to ride, and ultimately, the dance partner you've always imagined.
Visconte Simon Cocozza spent his childhood in Rome, Italy, but was educated in England. The family passion for horses inspired him to study for the British Horse Society's BHSAI, followed by the Instructor training of the Advanced National Certificate in Equine Business Management at Warwickshire College of Equine Studies. Following his return to mainland Europe, Visconte Cocozza became the first non-French national to obtain the Brevet Professionnel and become a Trainer and Examiner for the La Fédération Française d'Equitation (FFE). As a performance coach specializing in biomechanics and riding ethics, he now writes articles and books on better training practices, as well as lecturing at universities and conducting clinics internationally. His stable is based in Normandy, France.
Author Visconte Simon Cocozza
Format: Hardcover
Total Page Count: 296
Illustrations: 234 color photos & illustrations
ISBN: 978157768040
---
Share this Product
---
More from this collection