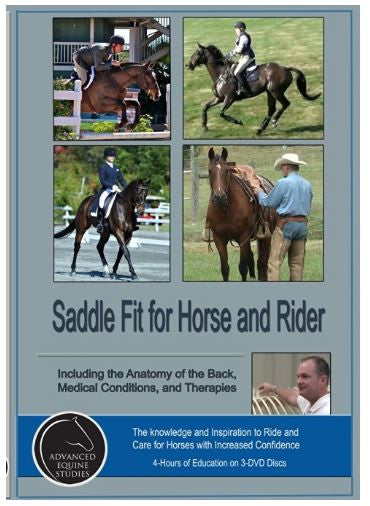 Xenophon Press
Saddle Fit for Horse and Rider - 4 hour EDUCATIONAL DVD set
Advanced Equine Studies: Saddle Fit for Horse and Rider, Including Anatomy of the Back, Medical Conditions, and Therapies
3 DVD SET - 4 hours of educational material
Saddle Fit for Horse and Rider DVD wins at EQUUS Film Festival
Durham, CT—Mouse Hole Farm Productions announces that their Advanced Equine Studies DVD Saddle Fit for Horse and Rider, Including the Anatomy of the Back, Medical Problems, and Therapies was awarded Best Training/Educational Program of 2016 at the EQUUS Film Festival held this past weekend in New York City. This makes two awards in two years for Advanced Equine Studies and Mouse Hole Farm Productions as their Horse's Respiratory System DVD won in the same category in 2015.
Producer Andrea Steele says, "I was so honored to accept the award on behalf of our entire team at Advanced Equine Studies. The people behind the EQUUS Film Festival put the spotlight on equestrian films and video projects like ours annually in November. The festival attracts horse people from all over the world who come to highlight what they do. There are awards in an array of categories, including TV commercials, music videos, training/education DVDs, documentaries, and full-length feature films. The common thread is a celebration of the horse. It's a fascinating event and an excellent opportunity to meet new colleagues."
Steele says she produced the Saddle Fit for Horse and Rider DVD because buying a saddle is a daunting task for every rider. Advanced technology in saddle design has brought so many new products to the marketplace that most riders can't process what the different design options mean for them and their horse—and buying the same saddle as your trainer or favorite professional rider uses is usually not the best plan. When you think about the cost of a saddle, watching this awarding-winning DVD makes good sense and will point even the most experienced rider in the right direction.
Saddle designer Ron Friedson teaches viewers how to narrow the vast array of saddles down to a limited number that will be appropriate for each horse and rider team. He provides specific criteria to take the mystery out of the decision-making process.
Dr. Wade Tenney of the Cummings Schools of Veterinary Medicine at Tufts University discusses the anatomy of the back and explains the effects of poor saddle fit on back health. He further demonstrates ways to build your horse's topline to better support the saddle.
Abigail Nemec, director of the equine program at Post University, and trainer Mark Rarick contribute their expertise, making Saddle Fit for Horse and Rider the success it has become.
 Don't buy or refit a saddle without watching this DVD. What you'll learn in this 4-hour program:
Disc One - The Saddle: Surveys the myriad of design options, explaining what each option means for the horse and rider;
Disc Two - The Rider: Explains the criteria for choosing the right saddle for your physique and riding style;
Disc Three - The Horse: Demonstrates fitting different body types and how saddle design can minimize conformational issues Also on Disc Three - Beneath the Saddle: Skeletal and muscular anatomy of the back, identifying pain and soreness, diagnosing medical problems, and discussing current therapies.
Saddle designer Ron Friedson provides an in-depth analysis of the art and science of saddle fit for both horse and rider. He tells us how to fit hunter/jumper, dressage, and western saddles. Then he navigates through the seemingly endless options in saddle design available in today's marketplace, focusing on those options that will guide riders to the saddle that will help make them safe, comfortable, and effective on their horses.
 The program goes to Tufts University where Dr. Wade Tenney talks about the skeletal/muscular anatomy of the back and how it supports the saddle and rider. He discusses common medical problems that occur and how they are treated. Abigail Nemec, director of the equine studies at Post University, and trainer Mark Rarick team up with Ron and Wade to make complex issues easy to understand and pertinent to viewer needs.
ADVANCED EQUINE STUDIES is an award-winning series of DVDs ideal for all riders, equine caregivers, schools with equine programs, veterinary technicians, and youth organizations. These DVDs are fun to watch with college-level content to empower viewers to learn at their own convenience for Anyone, Anywhere, Anytime.
---
Share this Product
---
More from this collection