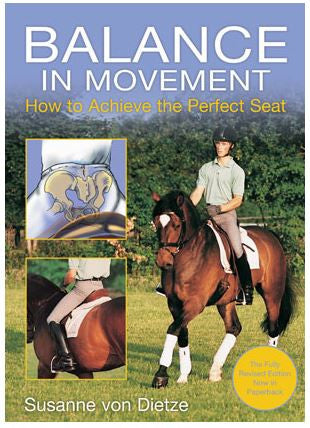 Xenophon Press
Copy of Balance in Movement: New Edition - How to Achieve the Perfect Seat by Susanne von Dietze
This book is on the USDF Instructor Certification Recommended Reading List.
The art of successful riding is the development of harmony to such a degree that, to the onlooker, horse and rider perform in total unity. The rider's key to this ideal is not a static seat but one that is capable of making finely tuned movements with which to both communicate and remain in perfect balance with the horse.
Originally published in 1999, Balance in Movement broke new ground in assisting the reader to understand the anatomical requirements crucial for establishing the "perfect": seat. Including discussion of common rider problems and correct application of the aids, this classic and highly acclaimed contribution to equestrian literature is now completely revised and extended with over 200 full color photographs, and is an essential addition to every rider's library.

Author: Susanne von Dietze
Format: Paperback
Pages: 224
Illustrations: 244 color photos and color illustrations
ISBN: 9781570767449
---
Share this Product
---
More from this collection