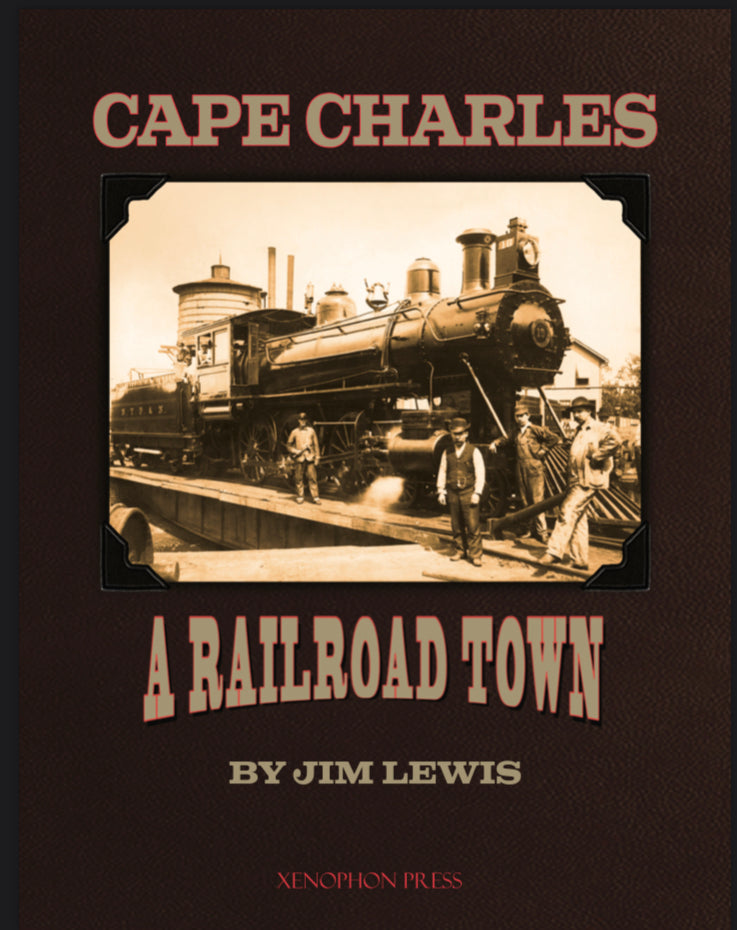 Xenophon Press
Cape Charles: A Railroad Town by Jim Lewis Xenophon Press 2021 Edition
In October of 1884, the first steam engine arrived at what was then the newly completed New York, Philadelphia, & Norfolk Railroad terminus at Cape Charles. At the time, Cape Charles was little more than an area of windswept sand dunes and marsh next to a shallow mud creek.
As the railroad and town evolved, railroad shops, yards, buildings, a newly dug harbor, barge landings and a steamer terminal soon followed. Houses and stores sprang up. The railroad flourished and provided work for generations of Eastern Shore residents. In its later years, it began to diminish as new roads filled with cars, busses, and trucks slowly began replacing railroads in the movement of people, produce, and manufactured goods throughout the country. When passenger service ceased in the 1950s, freight service continued, including the freight car barge link with Little Creek, across the Bay.  Last May, Bay Coast Railroad, which had leased and operated the railroad line, stopped running trains in Cape Charles. After over 130 years, railroad operations finally shut down for good in May 2018.
Jim Lewis Chronicles the historic development of Cape Charles and the important role that the railroad played in its development. This book, long out of print, is being re-published by Xenophon Press and TheCape Charles Historical Society. It is due out in the fall of 2021. 
The new edition will be a hard cover volume.
We are now accepting  advance reservations for copies to be delivered in the future.
---
Share this Product