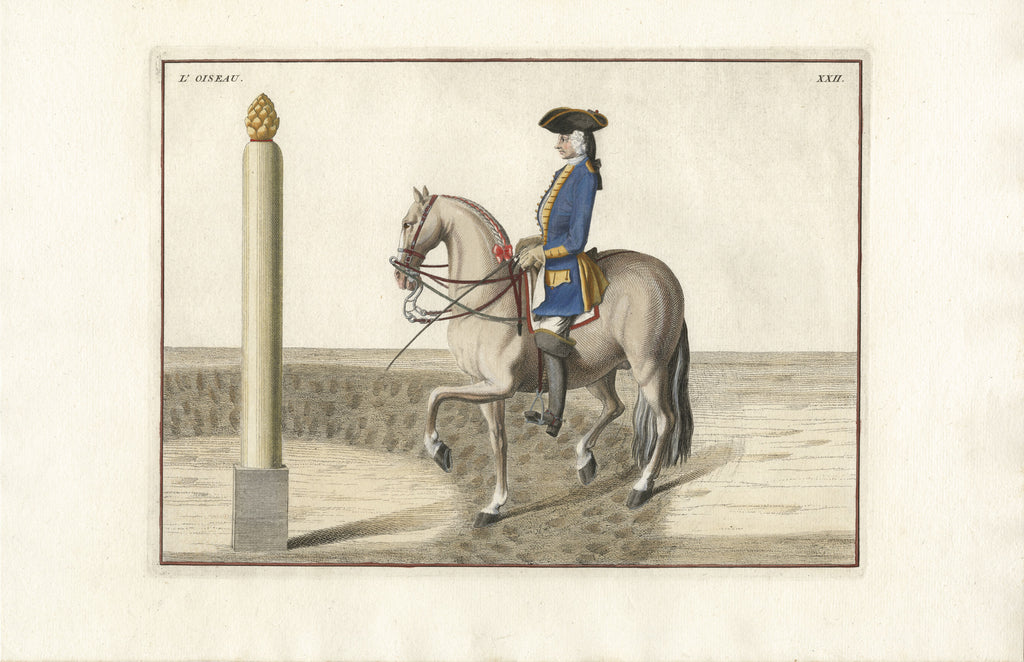 Xenophon Press
"L'Oiseau" by B. Picart/Eisenberg Fine Art Giclée on Paper
This giclée image is "L'Oiseau" from Chapter 22: The Reversed Volte with the Cavesson from The Art of Riding a Horse or Decription of Modern Manege in all Its Perfection
"When performing a volte, normally the Croup is placed toward the Pillar, but in performing a Reversed Volte (Volte reverse) the shoulders of the Horse are placed toward the pillar in such a way that when the Horse is working to the right, the pillar remains positioned to the left of the head, as one can note in the figure...." by Baron von Eisenberg (translation Sherilyn Allen V.M.D)
The aristocratic Baron von Eisenberg lived in many countries throughout Europe yet wrote most of his works in French, being the most loyal subject of the King of France. His love of horses and riding led to an equestrian career and, ultimately to the publication in French of his work "The Art of Riding a Horse or Decription of Modern Manege in all Its Perfection" in 1727 [now published by Xenophon Press in its English translation ISBN: 9780933316751 SKU 7219] during his stay in England and to which 268 European aristocrats subscribed. It is dedicated to Louis XIV of France and each of its engravings, including the frontispiece, were painted by Baron von Eisenberg and then engraved by B. Picart.
The original engraving was masterfully hand colored by English colorists to render the prints superbly decorative. Each print includes its descriptive text and measures approximately 17 inches wide by 11 inches tall.
This gorgeous engraving is offered here as a fine art giclée on ultra-smooth Hahnemühle Photo Rag paper. All reproductions on paper are printed with a 1/2 inch margin to allow for matting.
---
Share this Product
---
More from this collection