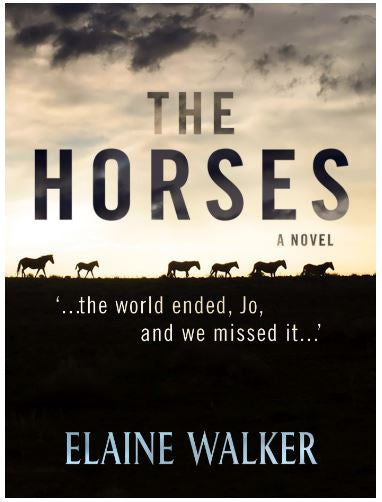 Xenophon Press
The Horses (A Novel) by Elaine Walker
Sale price
$9.99
Regular price
$14.99
NOW IN PRINT: OUR FIRST EQUESTRIAN NOVEL !
THE HORSES '...The world ended, Jo, and we missed it because we were on holiday...' by Elaine Walker
After a strange ecological disaster, Jo and his family are left stranded on a remote Scottish croft. They are facing personal, as well as global, tragedy when the arrival of mysterious herd of horses heralds the chance for an unimagined future. This powerful first person narrative uses magical realism to stunning effect to tell a story that is as compelling as it is important. Set on a remote Scottish island after a strange ecological disaster which has left the world largely devoid of human life, this is the story of Jo and his family.
'a compelling hybrid of realistic family drama and ecological fable…an uplifting and open-hearted novel.'
–Robert McKay, University of Sheffield
'...a tale of many parts. It is a post-apocalyptic story, a teenage coming of age story, a book for aficionados of magic realism and lovers of horses and a story of environmental disaster and recovery. It is also a text that subverts the dominant discourse of global economics, political disenfranchisement and bureaucratic domination.  Despite this apparent complexity The Horses is neither dark nor difficult and, unlike similar stories such as the deeply pessimistic Cormac McCarthy's The Road, this is a story of hope. Walker clearly knows not only her subject matter but also the stuff of writing with The Horses exhibiting a true storyteller's sensibility. Reading this novel is like eating a really enjoyable meal.'  - Sandra Burr, Journal of Writing and Writing Courses
The Horses was featured at The Guardian Hay Festival and chosen as a Welsh Books Council Book of the Month.
Elaine Walker lives in North Wales, UK. Her publications include fiction, poetry and non-fiction. She is also a singer/songwriter and musician. As a fiction writer, she is particularly interested in magical realism and storytelling that is not bounded by reality. She has a doctorate in English Literature and her academic work on early modern horsemanship manuals crosses into her interest in the fantastic in the lives and writing of the first Duke and Duchess of Newcastle. She offers a consultancy service on the horse in cultural history and has worked for English Heritage, Royal Mail and Atacama Films, among others. Her website, www.elaine-walker.com, has more on her work and links to her social media pages.
Item #: 2001
Manufacturer: Rolling Olive Press
---
Share this Product
---
More from this collection