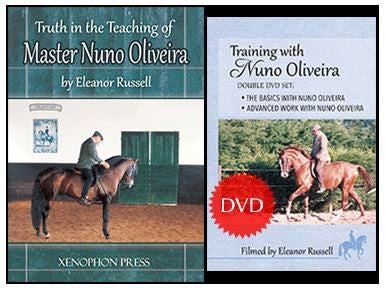 Xenophon Press
Nuno Oliveira SAVINGS Bundle by Eleanor Russell: Book & TWO DVDs
Sale price
$120.00
Regular price
$129.99
Save $10 off retail when you purchase Eleanor Russell's TRAINING WITH NUNO OLIVEIRA (The Basics and Advanced work) 2 DVD set andTRUTH IN THE TEACHING OF MASTER NUNO OLIVEIRA
About TRAINING WITH NUNO OLIVEIRA DVD set: 
These candid DVDs include unrehearsed footage of Nuno Oliveira teaching at his home manège and a little footage outside Portugal. It is amazing to watch Nuno Oliveira ride his own horses at home and to listen to his comments and descriptions of the aids while riding one of his horses. Nuno gives definitive corrections to a young student challenged by the opportunity of keeping her Grand Prix schoolmaster straight. These personal videos filmed by Eleanor Russell at Avessada, Portugal include his private, early morning training sessions. The horses are the typical, ordinary horses he used, Andalusian, Alter Real and Anglos. The DVDs are clear and simple with no interpretation from Eleanor Russell. Each film has a short introduction and minimal subtitles. Taking you back in time, these are a rare opportunity to observe his aids and corrections. 
By presenting these candid, un-edited films we hope to provide an educational experience. Often the horses and riders are less than ideal. There is no attempt to edit out the mistakes.
2 DVDs included: 'The Basics with Nuno Oliveira" and 'Advanced Work with Nuno Oliveira.'
NTSC format
Note: The film quality is not digital. The footage, filmed by Eleanor Russell in cine film has been transposed to DVD retaining the imperfections of the original format. 
About TRUTH IN THE TEACHING OF MASTER NUNO OLIVEIRA:
NUNO OLIVEIRA, by his tireless work, study, and belief in the Classical Principles of the art of training horses provided the link with the Great Masters of the 16th, 17th and 19th century in Europe, and the changing and expanding world of the 20th century. Nuno Oliveira taught and trained all his life, based originally in Lisbon, and later in Avessada, Portugal. He gave numerous performances with his beautifully trained horses throughout Portugal, often for charity. In the 1960's and early 1970's, he travelled to many countries in Europe and the United Kingdom to give demonstrations of all Classical movements. He also travelled to the United States, South America, and also to Australia and Asia giving training clinics and performances. He was regarded world-wide as the last of the Old Master Trainers, always devoted to the principles of the Classical Trainers of old. All of his life Nuno Oliveira studied and practiced this equestrian art, demanding of himself and his students discipline, calmness and always absolute correctness, in all movements the horse performed.
Eleanor Russell was a recognized dressage rider, an FEI judge and a breeder of Arabian Warmbloods in her homeland, Australia. She also collaborated with Nuno Oliveira translating two of his last books. 
To quote Nuno Oliveira... "equestrian art is the perfect understanding and harmony between horse and rider".
---
Share this Product
---
More from this collection