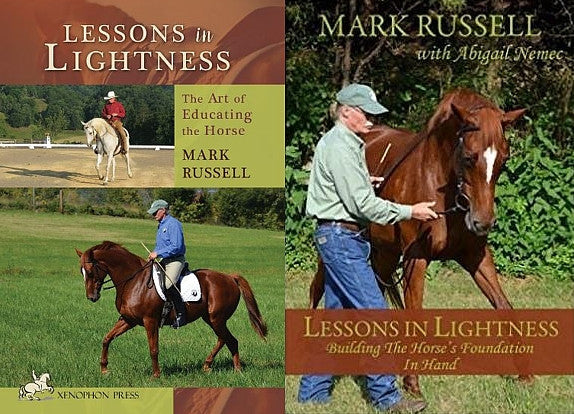 Xenophon Press
Lessons in Lightness BOOK + DVD savings bundle
Sale price
$79.95
Regular price
$84.90
Save $5 on the retail price of "Lessons in Lightness" Book/DVD bundle:
The Book:
Mark Russell (1951-2016) explains the theories and methods of the Old Masters in his easy-to-implement progression suitable for educating the riding horse in all disciplines. 
Lessons in Lightness offers the rider the concept of educating rather than training the horse using relaxation as the cornerstone. A tense horse has difficulty assimilating new information, yet relaxation often can be a difficult state to achieve. Mark Russell demonstrates not only how to attain relaxation but also how to maintain it throughout the horse's education. 
Following Mark's well-illustrated advice, energy is created in the horse without tension; the resultant free-flowing energy can be merely directed instead of forced. The progression of obtaining relaxation is fully explained by first accessing the horse's jaw, then working down the entire spine to the hind feet. The method incorporates all lateral movements, in-hand work and under-saddle work in all gaits. Educated using this progression, the horse will develop flexion and strength in a bio-mechanically beneficial way while avoiding emotional stress and physical strain. In this vein, Lessons in Lightness is written with the horse's perspective in mind.
The DVD:
As you have come to expect from Mark, this DVD gives you a thorough educational experience:
Discover the nuances of gymnastic exercise for the horse
Learn the importance of biomechanical alignment
Enhance the horse's freedom of movement and energy flow
Improve body language skills to connect with the horse with lightness 
Abigail Nemec, Director of Equine Studies at Post University in Waterbury, CT, joins Mark to examine the gymnastic and biomechanical value of each exercise. Using skeletal and muscular animation, Abby makes the complex issues of biomechanics easy to understand. She also demonstrates how riders can improve their body language and posture to achieve a high degree of success when incorporating Mark's exercises into their horse's training.
Author, trainer, and clinician Mark Russell incorporates the in-hand exercises developed by the classical masters into his own training program to relax, supple, and strengthen the horse in educated postures. Mark expands on his book, Lessons in Lightness: The Art of Educating the Horse, and his DVD, Riding with Chi: Your Pathway to Energy Mastery, by demonstrating the  techniques he uses to teach the horse to respond with lightness to the aids. His methods are accessible to riders from all disciplines.
Mark Russell:
After working with horses in a variety of capacities, Mark studied with Master Nuno Oliveira and, according to Mark, this "changed everything." Mark enriched his horsemanship with his practice of Tai Chi, Chi Gung, and Natural Horsemanship. Mark was a popular clinician who was uniquely able to assist all horses and riders, regardless of their experience level in their chosen discipline.
Mark Russell was tragically killed in a riding accident on June 12, 2016. Mark's wife, Hela is committed to preserving his life's work. For more information visitwww.naturaldressage.com.
---
Share this Product
---
More from this collection