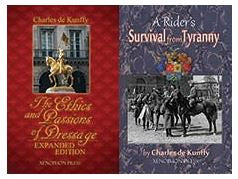 Xenophon Press
Charles de Kunffy Value Bundle ETHICS AND PASSIONS and SURVIVAL
Sale price
$49.95
Regular price
$59.90
 ETHICS AND PASSIONS OF DRESSAGE EXPANDED EDITION
This monumental contribution to equestrian literature is embellished with even more carefully-selected images of equestrian statues than the original edition. The Ethics and Passions of Dressage, Expanded Edition also includes additional chapters, 
recommended for the serious equestrian wanting to be simultaneously challenged and inspired. This book is sure to reaffirm the rider's dedication to an ethical approach to classical dressage.
    
"If you want to express the utter joy, the drive, the energy that takes you forward on your journey with horses, 
it is here in this book." -Sylvia Loch
AND
A RIDER'S SURVIVAL FROM TYRANNY
Charles de Kunffy retells the dramatic events of his privileged and turbulent young life. A European nobleman in the stormy years of World War II and the Hungarian Revolution persevered to become a prominent equestrian. During the Soviet occupation, de Kunffy finds a life-saving island of tranquility in the ancient art of classical horsemanship.
Fascinating accounts of his great mentors, 'professor' horses and remarkable characters are vividly described against an uncertain historical landscape. The author's account of life under brutal tyranny, and the victorious survival of a civilized mind are a testament to a determined and sensitive spirit.
Tragic at times, funny at others, this true-life tale of travel through a rugged social landscape is graced with equestrian salvation.
Item #: 6199
Manufacturer: Xenophon Press
49.00
---
Share this Product
---
More from this collection