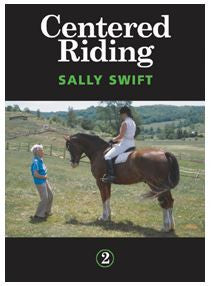 Xenophon Press
Centered Riding 2 (DVD) with Sally Swift
Sally Swift applies her techniques to the sitting trot, circles, canter, lateral work, and jumping.
Author: Sally Swift
Format: DVD run time: 60 mins.
ISBN: 9781570763168
About the Author
Sally Swift is world-renowned as the founder of Centered Riding® and has been leading a revolution in rider awareness for the past 20 years. Many of her groundbreaking techniques for riders are drawn from her use of the Alexander Technique, the study of anatomy, and other bodywork methods used for her own physical therapy to treat scoliosis. The book Centered Riding first took the horse world by storm in 1985 with innovative ideas such as building blocks, soft eyes, centering, and breathing. Sally has continued to develop her ideas over the years and now proudly oversees a Centered Riding® organization with an active membership and many instructors Sally trained herself to carry on her legacy of good riding. Sadly, Sally died in April 2009 three weeks shy of her 96th birthday. She will be dearly missed.
---
Share this Product
---
More from this collection